Featured Clothing
Chivalry Sports™ brand clothing is made for years of wear in all weather conditions for people who work or play all day at Renaissance Fairs and other outdoor events. We use fabrics that resist wrinkles, fading,and stains but are 100% cotton or a cotton blend so they are very comfortable. We never use zippers and our eyelets are rustproof and made to last. These designs come in sizes Very Small to 3X, and in some cases, 4X. Most items are in stock, but if they aren't, we will have them ready in just a few days.
Horseman's Tunic
Anglo/Saxon/Norman-style knee-length tunic. In sizes up to 4X.
Price: $84.95
Codpiece Pants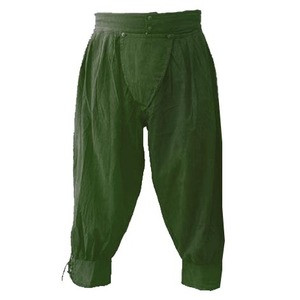 Below the knee-length pants with a codpiece fly. Colors: black, natural, green, and brown.
Price: $49.95
Suede Front-lace Boots
Knee-high suede leather boots in black or brown for men or women.
Price: $99.95