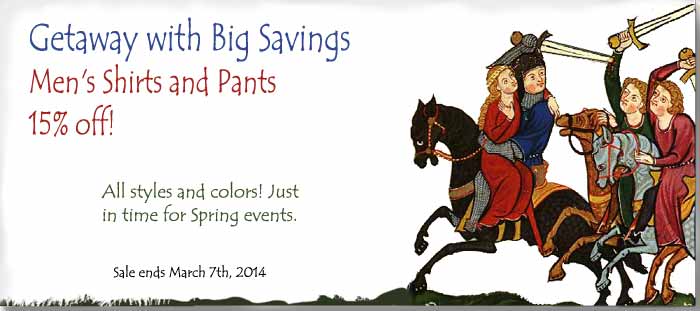 This sale is expired.
Getaway Sale! 15% on Men's Shirts and Pants!

All Colors and Sizes.
Lord's getaway with a new outfit for Spring. Stock up on extra shirts and tunics. Every style of pants and shirts are on sale. Some of the sale prices won't show until you put the item in your cart. Some items on sale in Clearance get an extra 15% off when you put them in the cart, too.
Featured items from this Sale

Vizier's Coat in Olive

Regular price:

$74.95

Sale price: $57.95.

You save

$17.00 off retail.

Nobleman's Tunic

Regular price:

$48.95

Sale price: $63.71.

You save

15% off retail.

Irish Dress
Sm or Med in Olive

Regular price:

$124.95

Sale price: $87.95.

You save

$37.00 off retail.

Celtic Lord's Cotehardie, XL in Brown

Regular price:

$79.95

Sale price: $64.95.

You save

$15.00 off retail.
New Look for Renstore.com
The new site is looking great. Almost all the articles are in place. If you haven't browsed out huge selection of stories, please take a look now. There are articles about historical traditions still being practiced today, travel, entertainment, camping, recipes, biographies, mysteries, art, music, and poetry. See Articles Table of Contents.
The Renaissance fairlist is up with all the links but the dates are not yet updated. However, they are usually pretty close to the same. Just click on the link to go to the official page to see if they have updated the information on the 2014 fair date.
Clothing in your size and color

Most of our clothing items are in stock. Some of our products won't have stock levels showing. These items are usually kept in stock and can be shipped right away. If your choice is out, it only takes 3 to 10 days to make since it is done in our factory. Monday through Friday, your order will be done the following Monday if not sooner. If you are in need of Chivalry Sports brand clothing faster than that, call us, and we can advise you on which items are in-stock and ready for immediate shipment.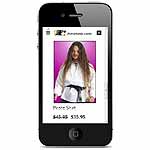 Mobile web pages

We have completely redesigned the mobile web store for greater convenience and a smoother checkout system. Now it is really easy to browse and order on your smart phone. And if you need to ask questions, customer service is just a click away.
Payment options
You can use Authorize.net to pay with Visa, Mastercard, or Discover. Debit or Credit. Paypal can process these cards and American Express, Diners Club, and more. You can also send your payment in by check or money order.
Refunds
Now you can process refunds over the web rather than having to call for a Return Authorization. Just go to your account, look for the order that you are returning and follow the online instructions.
Febuary Articles about January Customs, Whaaaa?

As you can see the articles were meant for January. But I hope you enjoy them any way. First a few winter fire traditions observed in January that have their roots in Norse Yule traditions. One is called Up Helly Aa and the other is the Burning the Clavie. Another great Scottish tradition for January is "Burns Night" when the Haggis is presented with bagpipes blaring and the Scotch Whiskey flowing. This article contains four poems by Rabbie Burns, Scotland's favorite son, with translations into "the divil's tongue."
---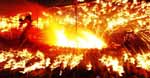 Winter Fire Festivals
Yule Logs, tar Barrels, and other traditions
Christmas is the time of year when ancient pagan, folk, and Christian traditions are blended in the most amazing ways. In this article we'll see how a few of those old traditions have survived in new forms.
The Yule log which was called uil in Scandinavia and comes from the same root word as "wheel" was a simple folk custom to symbolize of the turning of the wheel of the year. During the week of the Winter Solstice a large log was burned to brighten the dark night, fight off the cold, and burn away the bad luck and sorrows of the last year. The bad things that had happened would be carved into the log or written down and tied to the log before it was burned. Continued on Renstore.com...
---
Auld Lang Syne and other Songs
A Sampler of Poems by Robert Burns
Robert Burns (1759-1796) known as Scotland's Bard, was a prolific poet, songwriter, folklorist, social reformer, and well-known womanizer. He was born into a world of great inequality that was about to explode with revolutionary ideas. He was a bright child but had to work hard on his father's farm in Alloway while he was a mere child. Even so, his father recognized that he was special and sent him to school. He wrote his first poem at age 14 and continued writing even while studying how to grow flax and run a farm. After the publication of his first volume of poetry in 1786 he suddenly became famous. In fact he became a superstar in his time and was highly sought after as a speaker and eulogizer for the wealthiest families in Scotland and England. He used his influence to Continued on Renstore.com...