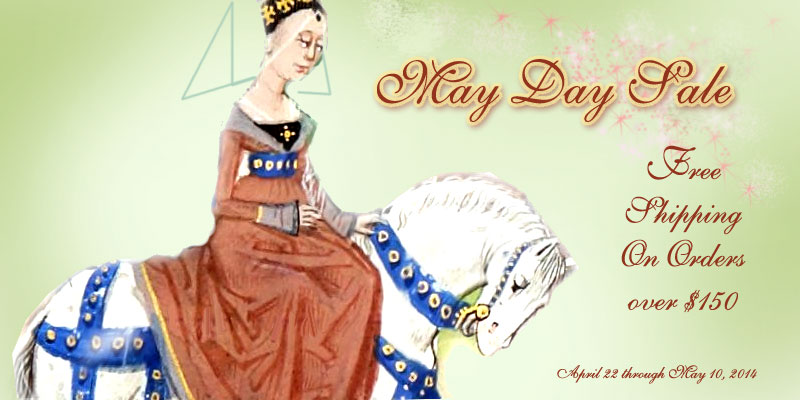 Free Shipping on orders over $150.
The discount is calculated on the merchandise only and not shipping, handling, or tax. Free shipping applies only to UPS Ground shipping or Priority Mail by USPS, not UPS expedited, 2-day, 3-day, or overnight shipping. Qualifying orders placed by midnight MST on or before the closing date will be discounted, even if they are funded and shipped on a later date. Sale ends March May 10, 2014
Just a Few Featured Items From This Sale
Welcome to Summer
Now that the weather is heating up, you can take advantage of free shipping on orders over $150. It's automatically calculated and you don't have to use a code to get it.
This month's article is for artists that want to paint Renaissance style borders that really WOW people. It is an easy technique that can be executed quickly for really outstanding results.
The Renaissance fairlist is completely updated and has the correct event dates if the webmasters of the official sites have updated the information on their pages.
Daylight savings time doesn't take happen in Arizona!

During the summer it is just like we are on Pacific Daylight Time, making our time the same as California
Refunds
Now you can process refunds over the web rather than having to call for a Return Authorization. Just go to your account, look for the order that you are returning and follow the online instructions. If you would like to make an even exchange for another size or need to make a request about something that was wrong with the order, please call customer service.
---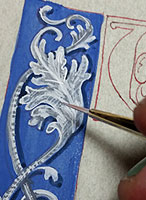 Painting Flemish Twig Borders
The Breviary of Isabella I of Castille is one of the most lavish illuminated manuscripts of all time. The Spanish ambassador Francisco de Rojas, presented it to Queen Isabella, who was at that time the wealthiest woman in the world. Six of the best illuminators of the 15th century worked on it and it was intended to celebrate the marriages of her son and daughter to Austrian royalty and to commemorate the discovery of the New World by Christopher Columbus. (For more on Isabella, see A Princess with a Mind of Her Own.)
This little book (only 9" tall and 6.3" wide) has over 1000 pages the way we count them, or 500 leaves front and back. Every one of them is decorated with multiple borders and illuminated capitals. About every four pages there is a large miniatures or a full page illustration. Though very little gold or silver is used on these pages, the colors are intense and pop right off the page. The breviary was obviously designed with the queen in mind. Much of the imagery is feminine with lovers, children and cute animals in the borders.
Here is a step-by-step lesson in how to paint borders in one of the styles used in this fabulous illuminated book. This is a trompe l'oeil (fool the eye) or illusionistic border that looks like twisted twigs and leaves laying on the page. When worked small, it is quite impressive. Continued on Renstore.com...
---