(March, 2013)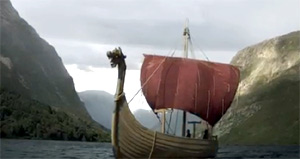 The Viking ships were the Ferraris of the sea.
Fast and sleek on the water, yet able to sail up
shallow rivers or land on the beach for swift raids.
Usually you won't find original drama of this caliber on basic cable. You have to subscribe to premium channels HBO or Showtime to see an epic series of this quality. The HISTORY® Channel dove into the deep end of the pool last year with the Hatfields and McCoys mini-series and took 4 Primetime Emmys®. It looks like they are going to do it again this year with their newest original drama, Vikings, that began airing March 3, 2013. There will be at least 9 episodes in season 1 and possibly more according to IMDB. The first two episodes are available at The History Channel and on Hulu until March 9. New episodes air on The History Channel on Sunday nights at 10 Eastern/9 Central time. Check your local listings for exact time and station.
Producer Michael Hirst (Elizabeth, The Tudors and The Borgias) has assembled a stellar, international cast and crew. According to Wikipedia, the first three episodes were directed by Swedish director Johan Renck (The Walking Dead and Breaking Bad), and three more episodes were by the directors of Rescue Me and Copper.

Ragnar (Travis Fimmel) and his band of
vikings gather for a raid.
Image credit: Jonathan Hession
Vikings is set in the 8th century and follows the rise of Ragnar Lothbrok (played by Aussie actor, Travis Fimmel), a Viking warrior and farmer who yearns to explore¿and raid¿the distant shores across the ocean. His ambition puts him at odds with Earl Haraldson (played by multi-talented Irish actor, Gabriel Byrne, also known for his role as Dr. Paul Weston in the HBO drama In Treatment.), who insists on sending his raiders to the impoverished East rather than risking his ships attacking the Western lands of England, Ireland, and France. Surreptitiously, Ragnar hires boat-builder Floki (Gustaf Skarsgard) to craft a new, faster ship capable of sailing the open sea so he will no longer be dependant on the Earl.
Since the tragic death of the Earl's sons, Haraldson and his beautiful wife, Siggy (American actress, Jessalyn Gilsig of Nip Tuck, Heroes, and Glee), have been trying to hang on to their power. He holds on by might and she finds her own ways. Ragnar's own super-sexy wife, Lagertha (Canadian, Katheryn Winnick who played Booth's girlfriend in the 2010 season of Bones) is a respected warrior in her own right and fights along side her family.

Lagertha (Katheryn Winnick) wife of
Ragnar and a shield-maiden.
Image credit: Kevin Lynch
But for all its warfare and bloodshed, Vikings is also a story of family and brotherhood, capturing the love and affection between Ragnar and Lagertha, the loyalty and rivalry between him and his brother, Rollo (English actor, Clive Standen of Camelot and Robin Hood), a fierce fighter who burns with envy for his younger brother's success, and the struggle of the young monk Athelstan (George Blagden, Les Misérables), whose Christian morals clash with the Vikings¿ pagan society.
Epic history sagas like Rome, Spartucus, and even History Channel's The Bible, portray violence and sexuality in a more realistic manner than previously seen on television and Vikings does not shy away from the brutality of Viking raids. Neither does it make apologies or excuses for them. It is their way of life, just as farmers farm and hunters hunt.
For the most part the art direction and research are impeccable but some obvious concessions have been made to accomodate the story or the characters. Earl Haraldson is clean shaven, which is startling in a culture that associates a clean face with youth and weakness. Ragnar and his son sport short Bayeaux Tapestry haircuts that seem anachronistic for the 8th century but when you consider that their characters represent the future of the Vikings it makes sense. The clothing is not very colorful though it is well documented that Vikings of the 8th century traded for wool and silk in all the colors of the rainbow and the wealthy were legally allowed to wear many colors at once. But it seems that every art director now days believes it necessary to dress its cast in drab colors or monochromatic tones. Nertheless, it is refreshing to see the attention to detail in the jewelry, utensils, customs, and beliefs of the Norse people that are depicteced in this series.
If you have seen the premier, then you are probably looking forward to the next episode as much as I am. If you haven't seen it, I suggest that you hurry online and watch it as soon as you can. You can also pre-order the boxed set of the whole season.