(March, 2011)
Camelot premiers April 1, 2011 on Starz and On Netflix.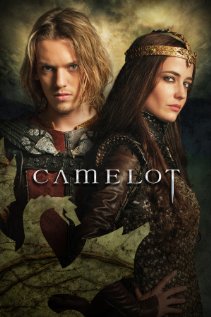 Camalot starring Joesph Fiennes and
Eva Green on Starz.
This series officially begins in April but you can get a sneak peak of Episode 1 now on Starz on Demand, Netflix, or on the Starz website. Based on listings in IMDB there will be at least 9 more episodes aired this year. The action begins with the death of King Uther at the hands of his daughter Morgan le Fey. Uther's wife, Igraine joins forces with her son, Arthur, and the wizard Merlin (Fiennes) to oppose Morgan. Merlin is something of a revolutionary with a goal to start a new kind of Kingdom, based on law and justice instead of brutality. Not your kid's version of Camelot. This one contains lots of sex, nudity, and violence. See the pilot here at the Starz Screeningroom.
Camelot Starring Eva Green (Kingdom of Heaven) as Morgan le Fey, Joseph Fiennes (Shakespeare in Love) as Merlin, Claire Forlani (Meet Joe Black, CSI NY) as Igraine, and Jamie Campbell Bower (New Moon, Sweeny Todd) as Arthur.
Black Death opening soon
Black Death is a dark movie about the horrors of the plague and the sadistic violence it spawned as those who believed it was caused by witchcraft and necromancy sought to eradicate all heretics. This is a very dark film about medieval torture methods and the danger of blind faith. Now previewing on cable "On Demand" and showing in US theaters after March 11, 2011. Starring Sean Bean (Boromir in Lord of the Rings), Eddie Redmayne (Jack in Pillars of the Earth). Rated R. See Trailer here.

Your Highness starring Natalie Portman,
James Franco, and Danny McBride.
Your Highness
From the folks that brought you Pineapple Express comes Your Highness, a comedic romp through Medieval Fantasy. The wizard Lazaar kidnaps Prince Fabulous' bride. He must go on a quest to rescue her, accompanied by his lazy, useless brother Thadeous. Starring Natalie Portman (Black Swan), James Franco (127 hours), Zooey Deschanel (Tin Man), and Danny McBride (Eastbound & Down). This looks like it will be a real hoot. Bring your friends. Opens in theaters April 8th nationwide.See the trailer here.
Game of Thrones premires on HBO April 17, 2011.
Based on the books by George R. R. Martin, and starring Lena Heady who played Sarah in Terminator: The Sarah Connor Chronicles and the queen in 300 and Sean Bean, (Boromir in The Lord of the Rings). This gritty fantasy is set in a medieval world, much like our own, but the seasons have no set length. They can last for years...and winter is coming!

Thor starring Natalie Portman, Anthony
Hopkins, and Chris Hemsworth.
Thor
coming
to theaters May 6th, 2011
Directed by Kenneth Branagh and also staring Natalie Portman (Black Swan), Chris Hemsworth (Star Trek), Anthony Hopkins (Hannibal, The Rite), and Kat Dennings (Nick & Nora's Infinate Playlist). Paramount Pictures and Marvel Entertainment present the epic adventure, Thor, which spans the Marvel Universe from present day Earth to the realm of Asgard. At the center of the story is the mighty Thor (Hemsworth), a powerful but arrogant warrior whose reckless actions reignite an ancient war. Thor is cast down to Earth by his father Odin (Hopkins) and is forced to live among humans. A beautiful, young scientist, Jane Foster (Portman), has a profound effect on Thor, as she ultimately becomes his first love. It's while here on Earth that Thor learns what it takes to be a true hero when the most dangerous villain of his world sends the darkest forces of Asgard to invade Earth. In 3D IMax.


Pirates of the Caribbean:
On Stranger Tides
starring Johnny Depp
Pirates of the Caribbean: On Stranger Tides
I thought Pirates of the Caribbean storyline ended with At the Worlds End but Jack is back with a mysterious love interest played by Penelope Cruz (Vanilla Sky). The plot includes a fountain of youth, mermaids, zombies, and Captain Blackbeard (the pirate that all pirates fear!) Starring Johnny Depp reprising his role as Cap'n Jack Sparrrow, Ian McShane (Pillars of the Earth) and Geoffrey Rush (The King's Speech). Coming May 20, 2011 in 3D. See the trailer.