(March, 2012)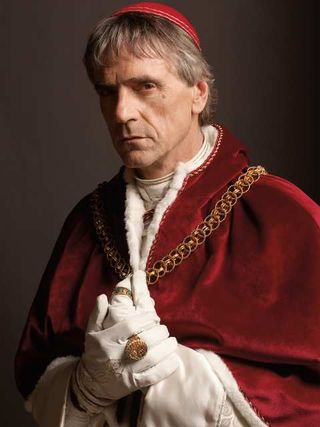 Jeremy Irons as Rodrigo Borgia in Showtime's The Borgias
by Gael Stirler
The Emmy award winning televison drama "The Borgias" returns to Showtime on April 9, 2012 for its second season. Season one ended with the French army attacking Rome.
This version of the lives of Rodrigo, Cesare, and Lucrecia Borgia is directed by Neil Jordon (The Crying Game). Rodrigo Borgia/Pope Alexander is played by famed English actor, Jeremy Irons (Eregon). The series won two Emmys and the Canadian Gemini Award for Best Dramatic Series in 2011.
The lush, violent, historic drama is a must for all historical reenactors . Come for the costumes and stay for the action, suspense, and drama. The first season is now available on disk through Amazon or Netflix if you missed it.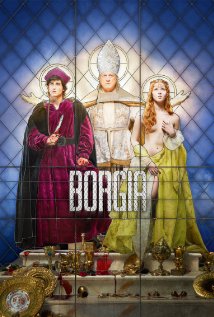 Borgia 12-part mini series now on Netflix
"Borgia" by Canal+ (Italy) also came out in 2011 and is also a lush, violent, sexy television show about the Borgias' rise and fall in Renaissance Rome. It was produced in Italy but you'll be glad to learn that it was filmed in English so there are no subtitles to read. I am so used to seeing English actors in period dramas that it disconcerted me that the lead character and two of his three children had American accents. English Accents are no more authentic for an Italian Pontiff than American but it took a little while to get used to.
The Showtime version uses excellent special effects to recreate the early Vatican while "Borgia" uses actual Italian locations and studio sets. The plots follow similar lines but each has its own way of telling the story. The character of Rodrigo is played by John Dorman (The Wire) as a thoughtful man of his time, a dedicated cardinal who seizes his opportunity to advance when Pope Innocent dies.
Over all it is worth watching both series if you have the time. "Borgia" is available now on Netfilx instant play.