Posted by Gael Stirler on Jun 23rd 2014
Follow Gael's Board British Library Medieval Manuscripts on Pinterest.
Have you ever wished that you could examine a whole illuminated manuscript with a magnifying glass? Now you can with the British Library's Digital Collection. They have digitized hundreds of manuscripts and are adding more daily. Each one is rendered in its entirety at 6X (or higher) in a zoomable format that you can access from your own computer.
The problem was this site was that it was hard to find unless you were a scholar or you stumbled up it from another link. Even then, you were presented with so many choices, most of which were text-only books, that you had a hard time finding the interesting, illuminated ones.
I have gathered the best 15th century manuscripts from the British Library on this board and am adding more from earlier centuries as I find them. So follow this board on your own Pinterest page so you can refer back to it. Each book is a wonder and will take a while to examine because you can see all of it rather than just one or two pages. You can also see the facing pages to full-page illuminations, marginalia, artists notes, and unfinished pages that you never would have seen before.
You can't print directly from this website but you can grab screen shots and use them to put images into your own webpages (properly attributed to the British Library, of course) or in your reports and documents. I recommend naming them after the manuscript number, the folio (page number), and short description of the image so that you can find the original again if needed.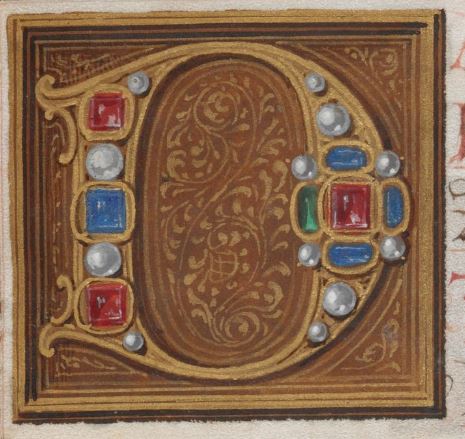 For instance, I grabbed this image from the Golf Book of Hours in the British Library using a program called "Snipit". I named the image "Add MS 24098 f5r Golf book-detail D.jpg" and saved it in a folder called "Illuminations from the British Library". That way I can easily cite it documentation.
Each pin on this board will open on an information page that tells you a lot about the book. Under the heading of "Decorations" you will find a list of all the pages with miniatures, capitals, or borders of interest to artists.
Under "Physical Description" you will find out how big the page is in millimeters and how wide the text area is on each page. If you aren't used to the metric system, you can type "convert 110 mm to inches" into the url line to bring up a page that tells you it is 4.33 inches. The "Bibleography" Section tells you what books and articles it has been mentioned in. You may have some of these books in your home or local library.